Music Openair Support (Cavaglia GR)
Topic:
12: Art, culture and local history
Work Types:
Festival / Cultural heritage
Number of places still available:
3
Free places last update:
May 17, 2022
International age:
18 - 99
Required Language:
English
Spoken Language:
German, Italian, Spanish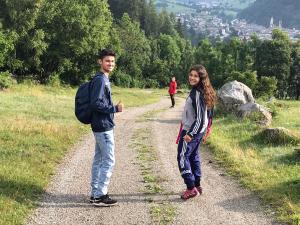 Description: The Openair Cavaglia is a music festival which is completely immersed in nature. We believe the more diverse the music is, the funnier and more entertaining it is for the audience, so the bands play all genres, ranging from folk to rock, funk and more. At midnight everything gets mixed up with a free for everyone jam session, when even musicians from the crowd can join in. Additionally, there is also a dancefloor with a DJ. Through the Openair we want to acquaint the visitors with our region of Valposchiavo and promote our local identity by, for example, offering a wide palette of delicious dishes like polenta or pizza made by locals or local restaurants, making sure you will never eat the same thing twice.
Type of Work: You will help with setting up and then dismantling the festival area. Examples of activities that you may do: build and dismantle the stage; set up and take down the tents etc.; clean up the festival and camping area at the end of the Openair. The work is physically demanding.
Study Theme: We will mostly present our valley and the concept behind the Openair Cavaglia. This will be neither exhausting nor time-consuming. Since we will be a small group, we will also be able to adapt the "study theme" to the volunteers' interests.
Accommodation: You will sleep in an accommodation in Poschiavo or in Cavaglia. You will have to bring your own sleeping bag and a towel; there are toilets and separate showers but no separate bedrooms. You won't have access to a washing machine but you will be able to ask the local project partner to wash something in case it is needed; Wi-Fi will be available at the accommodation and the hotspot will be shared during the day if it is possible and needed; make sure to bring warm clothes (since Cavaglia is at 1703 meters it gets really cold at night, up to 4+ degrees); generally we will cook together.
Language: Local language is Italian (but all members of the organization team speak English, Italian, German and some also speak Spanish).
Requirements: NEW INCOMING FEE for volunteers applying via Partner organisations and Contacts of SCI: https://bit.ly/3iiJWI5
Approximate Location: The workcamp will be located in Cavaglia, a small village completely immersed in nature. The accommodation will be situated in Poschiavo or in Cavaglia. Poschiavo is the next bigger municipality with 3'500 inhabitants, 20 minutes from Cavaglia by train. During the Openair there is also a possibility to camp in Cavaglia.
Notes: Other key principles of the festival are togetherness, ecological sustainability and the promotion of arts (e.g. with our posters, painting ateliers, body painting and, the last but not the least, our crazy decorations).
Do not forget to bring:
sleeping bag and towel
hiking/walking shoes
waterproof shoes(/boots)
working clothes
raincoat
warm clothes (maybe during the day it`s warm but at night it will certainly be cold, up to +4, as Poschiavo is located at 1014m and Cavaglia at 1703m)
swimming suit
During the Openair it is also possible to sleep in a tent on the camping area of the festival. In this case you should bring your own camping equipment.
Organization Description: SCI Switzerland is a non-profit organisation which promotes intercultural exchange, sustainable development and non-violent conflict resolution. It has been organizing workcamps and long-term exchanges for volunteers worldwide since 1920. Each year more than 100 volunteers from Switzerland engage in SCI projects abroad, while around 200 international volunteers participate in projects in Switzerland. SCI Switzerland is certified by the Intermundo quality label, which guarantees high quality standards in youth exchange. Swiss workcamps are mainly focused on the work with youth as well as in the area of environmental protection. That is why among SCI Switzerland`s values is also an environmentally friendly lifestyle in accordance with the ideas of sustainable development. Volunteers are encouraged to be eco-friendly, especially when travelling to Switzerland and during the projects. Before applying be aware of high travel costs within Switzerland and check prices on the railway website www.sbb.ch. A participation in the camp from the first until the last day is needed for reason of instruction and group dynamic.

---
Camp Photographs