Botanical Garden Alpinum Schatzalp (Davos GR)
Topic:
10: Environment protection
Work Types:
Agriculture / Environment / Study, discussion, research
Number of places still available:
0
Free places last update:
May 24, 2022
International age:
18 - 99
Required Language:
English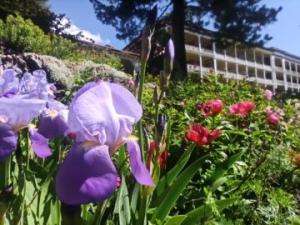 Description: The private botanical garden "Alpinum Schatzalp" is part of the Art Nouveau mountain hotel Schatzalp in the heart of the Swiss mountains. Occupying about 5 ha at the height of 1864m above the sea level, there are over 5000 different species and types of plants from all over the world that are cultivated here. Like all botanical gardens our goals are:
Conservation and collection of plant species from all over the world
Education of visitors
Local recreation
The botanical garden is a part of the Berghotel Schatzalp the Alpinum.
Type of Work: During your stay you will get an insight into horticulture, especially into the field of alpine gardening. Volunteers will mostly be working with different invasive species, such as Neophytes, and work on nature conservation. Apart from that, you will prepare compost, propagate plants, maintain the garden grounds, and prepare flower-beds.
Study Theme: The person responsible for the Alpinum will tell you about plant conservation, about Alpine horticulture and gardening.
Accommodation: The volunteers will be located in shared rooms inside the hotel; each volunteer will have a separate bed. Sheets and blankets will be provided. The shared toilets and showers are located on the floor. There is a washing machine which costs 3 CHF per load. There is also WiFi available. Food will be provided through the hotel cantine.
Language: Swiss German, German, English
Requirements: As there was a quota of 4 people for this camp to happen, we are happy to inform you that by now we have 4 volunteers, who have confirmed their participation, so the camp will happen!
Good quality shoes and working clothes are necessary!
NEW INCOMING FEE for volunteers applying via Partner organisations and Contacts of SCI: https://bit.ly/3iiJWI5
Notes: The Alpinum is willing to offer a lot of knowledge, especially in the field of gardening and horticultural/botanical sciences. Therefore volunteers should be interested in the abovementioned topics. You should keep in mind that volunteers will have to work hard (although not inhumanely hard!) in order to keep up with the high standards of work.
The volunteers organise their free-time activities themselves: there is a huge amount of beautiful hiking places (starting with the hotel grounds and Davos itself). The Alpinum usually organises evening bonfires or evening get-togethers, but not on a daily basis.
Organization Description: SCI Switzerland is a non-profit organisation which promotes intercultural exchange, sustainable development and non-violent conflict resolution. It has been organizing workcamps and long-term exchanges for volunteers worldwide since 1920. Each year more than 100 volunteers from Switzerland engage in SCI projects abroad, while around 200 international volunteers participate in projects in Switzerland. SCI Switzerland is certified by the Intermundo quality label, which guarantees high quality standards in youth exchange. Swiss workcamps are mainly focused on the work with youth as well as in the area of environmental protection. That is why among SCI Switzerland`s values is also an environmentally friendly lifestyle in accordance with the ideas of sustainable development. Volunteers are encouraged to be eco-friendly, especially when travelling to Switzerland and during the projects. Before applying be aware of high travel costs within Switzerland and check prices on the railway website www.sbb.ch. A participation in the camp from the first until the last day is needed for reason of instruction and group dynamic.