Nature Parc Ela - Reconstruction of dry stone walls (Savognin GR)
Topic:
10: Environment protection
Work Types:
Agriculture / Environment / Cultural heritage
Number of places still available:
4
Free places last update:
May 07, 2022
International age:
18 - 99
Required Language:
English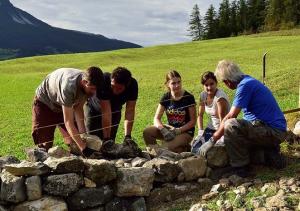 Description: Parc Ela is a regional nature park in the east of Switzerland in the canton of Graubünden. It is located in the middle of the Alps. The nature parks organization is committed to preserve the cultivated landscape, support local sustainable economy and cultural heritage. The park maintains diverse wildlife from 745 to 3418 meters above sea level. One of the Parc Ela projects is to maintain and reconstruct dry stone walls that characterize the landscape and historic routes for centuries.
Type of Work: Together with professionals from Parc Ela, you will reconstruct dry stone walls along a historic road. Dry stone walls are built only with stones. Although no concrete or cement is used to build walls, it can last for centuries. You will learn a handcraft that is known for generations. You will help us to preserve this cultural heritage which provides biotopes to highly adapted plants and animals. For two days you will promote the maintenance, care and protection of the alpine biodiversity by supporting organic farmers and their daily work.
Study Theme: Every day you will receive various inputs with interesting information about your tasks, local wildlife and regional history. Topics will be adapted to the volunteer's interest. These informative inputs will be an integral part of your work time and last up to an hour per day.
Accommodation: All volunteers will stay in an accommodation with 2 sleeping rooms. Mattresses, woolen blankets, and bedsheets will be provided. If possible, bring your own sleeping bag and slippers. The accommodation is fully equipped with a washing room with multiple toilets and showers. Volunteers cook the food that can be bought at the local grocery store on their own. Access to the Internet cannot be guaranteed at all times. If it is necessary we can provide a mobile hub for several hours a day.
Language: Common language is English. Local languages are Romansh (regularly spoken by only 60'000 people) and German.
Requirements: For work, it is necessary to wear hiking or working boots that cover the ankles.
NEW INCOMING FEE for volunteers applying via Partner organisations and Contacts of SCI: https://bit.ly/3iiJWI5
Notes: A Romansh teacher will visit the volunteers and give them an introduction to the language. On Sunday August, 14th the traditional Felsenfest (Rock and Stones Festival) takes place in Bivio, where the African and Eurasian continents meet. You can visit the festival, enjoy some local meals, meet locals and visitors and experience the fascinating world of stones and rocks (information about Felsenfest in German: https://www.parc-ela.ch/de/erlebnisse/veranstaltungen/felsenfest).
Organization Description: SCI Switzerland is a non-profit organisation which promotes intercultural exchange, sustainable development and non-violent conflict resolution. It has been organizing workcamps and long-term exchanges for volunteers worldwide since 1920. Each year more than 100 volunteers from Switzerland engage in SCI projects abroad, while around 200 international volunteers participate in projects in Switzerland. SCI Switzerland is certified by the Intermundo quality label, which guarantees high quality standards in youth exchange. Swiss workcamps are mainly focused on the work with youth as well as in the area of environmental protection. That is why among SCI Switzerland`s values is also an environmentally friendly lifestyle in accordance with the ideas of sustainable development. Volunteers are encouraged to be eco-friendly, especially when travelling to Switzerland and during the projects. Before applying be aware of high travel costs within Switzerland and check prices on the railway website www.sbb.ch. A participation in the camp from the first until the last day is needed for reason of instruction and group dynamic.

---
Camp Photographs