Himmelstorm Festival 2022
Topic:
10: Environment protection
Work Types:
Environment / Festival / Manual
Free places for Females:
7
Free places last update:
May 25, 2022
International age:
18 - 40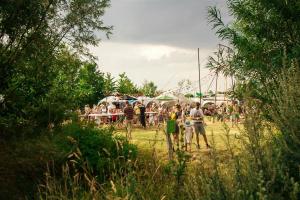 Description: Himmelstorm Festival is a three-day festival set in the idyllic eco-village Dyssekilde. Its a family-friendly festival with over 1.000 people participating. At the festival, you can experience music, dance, theatre, acrobatics, circus, workshops and a whole lot more.The Work Camp will be centred around setting up and building temporary structures for the festival grounds.Dyssekilde is a small village with about 1,000 inhabitants. The village is built on a strong philosophy of ecology and sustainability. Therefore, almost everything in the small community is sustainable and the village even has a small windmill to produce electricity.Himmelstorm Festival has been a non-profit since the beginning, so they really appreciate the work the volunteers do. Each year, approximately 220 volunteers contribute to making Himmelstorm is an experience to remember. At this festival, you will meet many new people and have a great experience.
Type of Work: At the Work Camp, you will be building the festival in collaboration with other volunteers. Building a festival is hard work, but incredibly fun and rewarding. The tasks will vary from day to day, but mainly manual work to prepare the framework for the festival. Well be assembling pre-built structures, pitching big top tents, setting up showers and toilets and cooking meals for all the fabulous volunteers preparing the festival grounds for the festival. In addition, you must dismantle the festival structures and clean up when the festival is over.You will have free time during the festival where you can enjoy the good music and cosy atmosphere.
Accommodation: AccommodationYou will all be sleeping in two classrooms in a nearby school. You will have to bring your own pillow, sleeping bag, and mattress.Food:You and the other participants are responsible for making your own breakfast throughout the whole Work Camp. Lunch and dinner are provided on the days of setting up the festival.During the festival, you will receive two mealdrink vouchers each day, that you can use as you wish. In other words, there will be no extra expenses related to meals, unless you are in the mood for snacks, which you will have to pay for yourselfAfter the festival, you and the other participants are responsible for all meals.All expenses are covered by the camp host. There is a local supermarket close to where you live and there will be a primitive kitchen where you will be cooking in teams. Bathroom facilities: Baths and toilets are available at the school and festival site.Unfortunately, there is no washing machine.
Language: eng,
Requirements: We have no more COVID19 restrictions in Denmark. This basically means that our everyday lives are back to normal, with no masks, assembly bans and test requirements. There are still a few restrictions on entry into the country, but if you are vaccinated or recently infected, then there are currently no isolation or test requirements. Be aware, that airlines might have requirements regarding COVID-19. Though our restrictions are gone, we know that COVID19 is still a problem worldwide. We want to assure you, that you will be safe at the camps, personal boundaries will be respected, tests are still an option for no extra cost and you can wear a mask if you wish.We will of course also inform you of any changes. For security reasons, we can unfortunately not have volunteers with hearing or sight disabilities. For other physical disabilities, it depends on whether the volunteer can do manual work for several hours since the work is about construction and is very physical.The work will be outside and it is expected that you do have some experience with manual/piratical work. It is also important that you bring practical clothing for all kinds of weather.English will be the only language spoken. All participants must be willing to speak English, even though being from the same country or have trouble with the English language. Try your best
Approximate Location: The camp is located in a cosy local area with beaches and forests, so there is plenty of room for a lot of fun outdoor activities. The camp hosts would like to lend the groups some bikes so that you can all enjoy the lovely area together.Your Work Camp leaders will help you and the group with organising activities in your spare time. It is free to enjoy the beautiful nature of Hundested, but some activities might require an extra charge. Any additional charges will have to be paid by the volunteers.
---
Camp Photographs