Chestnut forest & alpine agriculture (Vezio TI)
Topic:
10: Environment protection
Work Types:
Agriculture / Cultural heritage / Manual
Number of places still available:
3
Free places last update:
May 14, 2022
International age:
18 - 99
Required Language:
English
Spoken Language:
French, German, Italian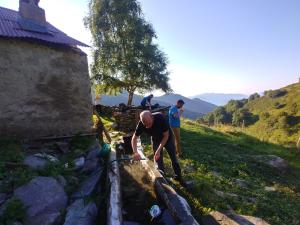 Description: The project "Alma" is situated in Alto Malcantone, a Southern Swiss Alps Municipality with 5 small villages, where 1400 people live all year long. The farm works mainly with Scottish highland cows. This project shows how, by taking care of the forest following the traditional methods, biodiversity can be supported. By cleaning the undergrowth from more invasive plants, it is possible to allow other types of plants to grow. Furthermore, the forest itself offers refuge to bats that migrate from the North of Germany to reproduce in these places as well as different species of birds. The forest has for years been a source of livelihood for the local population that has always benefited from the chestnuts produced by these majestic trees.
Type of Work: Collecting wood and stones, cleaning the chestnut forest and the pasturages, cutting grass using machines on sometimes steep slopes and cutting the branches and bushes with garden scissors, ameliorating paths, fixing broken fences, preparing and putting the fences for the cattle in the mountains. Specific work tasks depend on the weather and other circumstances. In the beginning of each day, you'll receive more details about what needs to be done exactly.
Study Theme: This project shows how agriculture can contribute to biodiversity and how, by taking care of the forest following the traditional methods, biodiversity can be supported. If these territories weren't taken care of, there would be an imbalance in the biodiversity. The Project Partner will do an introduction to his work but feel free to ask for more information during work and leisure time; he is very willing to share some of the stories about traditions and the techniques of local agriculture.
Accommodation: Mainly in a civil protection dormitory (sometimes in alpine barns). In the dormitories, there are beds with mattresses; shower, kitchen - you will only need a sleeping bag. The project partner will do the shopping and you'll cook the provided products. On the alp (accommodation for 1 night in an alpine hut) you have to bring a small mattress and a sleeping bag in a mountain backpack.
Language: The workcamp language is English. Languages that can be spoken as well, but are not specifically required, are Italian, German and French. The local language is Italian.
Requirements: Since the workcamp is small we only accept single applications here (no couples/friends -> for them please chose a bigger workcamp).
NEW INCOMING FEE for volunteers applying via Partner organisations and Contacts of SCI: https://bit.ly/3iiJWI5
Notes: Be aware that this type of physical work might be demanding. The project partner will give you instructions about safety and working clothes.
Ticks (very small black insects that live mainly in the forest shrubs) can transport two forms of severe illnesses. Ask the local partner about the situation, how to protect yourself and how to find and treat a bite. If you later detect a red circle around the bite, make sure to visit a doctor.
Organization Description: SCI Switzerland is a non-profit organisation which promotes intercultural exchange, sustainable development and non-violent conflict resolution. It has been organizing workcamps and long-term exchanges for volunteers worldwide since 1920. Each year more than 100 volunteers from Switzerland engage in SCI projects abroad, while around 200 international volunteers participate in projects in Switzerland. SCI Switzerland is certified by the Intermundo quality label, which guarantees high quality standards in youth exchange. Swiss workcamps are mainly focused on the work with youth as well as in the area of environmental protection. That is why among SCI Switzerland`s values is also an environmentally friendly lifestyle in accordance with the ideas of sustainable development. Volunteers are encouraged to be eco-friendly, especially when travelling to Switzerland and during the projects. Before applying be aware of high travel costs within Switzerland and check prices on the railway website www.sbb.ch. A participation in the camp from the first until the last day is needed for reason of instruction and group dynamic.

---
Camp Photographs