Community Health Education
This project is part of the SCI North South Programmes. Volunteers should be 20 years old, have previous volunteering experience and take part in the Preparation Workshops organised by their sending branch. More details from your sending branch.

Topic:
13: Community life
Work Types:
Teaching / Work with children / Medical
Number of places still available:
15
Free places last update:
May 11, 2023
International age:
18 - 99
Extra fee to be paid in the hosting country:
240.00 Euro [262 US Dollar]
Breakdown:
Accommodation and food: 168.00 Euro
Transportation: 52.00 Euro
Activities: 0.00 Euro
Hosting organisation support: 20 Euro
Purpose of extra costs:
The participation contrubution fee includes - One night in Nairobi on arrival Accomodation - Transport from Nairobi to and from Kiburanga - Three meals a day in the hosting family - Traveling expenses for the local coondinator to pick the voluteers from the airport (covered are accomodation, transport and meals) - Community support+Administrative Cost (communication, office etc.) The Organisation depends fully on participation fees and donations ,because we do not receive any local funding to support to organize our projects.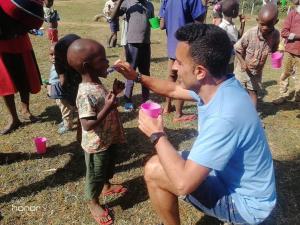 Description: The community members, mainly children, lack awareness of environmental and personal health. Kiburanga association initiated activities to increase the knowledge and practice of personal health (child education) as part of the community development plan. The volunteers will be asked to engage in these activities, by running small workshops and classes in schools and the community at large. Precondition will be to establish a good relation to the community members and the women to address different issues with the children on environmental health and personal hyghiene. Volunteers will need to bring strong motivation, creativity and sense of self-initiative.
Type of Work: The main activities will be
Raising Awareness on the basic health issuss
Organizing children activities
To plan a workshop on Mobile clinic treatment
Home visits and cultural exchange with community members 5 Renovation/ painting
Study Theme: Community Development, Cultural Exchange
Accommodation: The community will accommodate volunteers in a house provided by the local people.There are pit latrines, no running showers but bath-shelters for use will be provided and majority of homes have no electricity. We strongly advice volunteers to be flexible and easily adapt to the provision of other culture within the local environment and appreciate its uniqueness.
Volunteers will sleep on the floor (affordable mattresses can be purchased in the community or volunteers need to bring their own sleeping mattress along). There is access to clean water.
Approximate Location: Kuria region, Kenya