This project is part of the SCI North South Programmes. Volunteers should be 20 years old, have previous volunteering experience and take part in the Preparation Workshops organised by their sending branch. More details from your sending branch.

Topic:
7: Children and youth
Work Types:
Work with children / Social / Sport
Free places for Females:
3
Free places last update:
May 05, 2022
International age:
18 - 99
Extra fee to be paid in the hosting country:
250.00 Euro [272 US Dollar]
Breakdown:
Accommodation and food: 0.00 Euro
Transportation: 0.00 Euro
Activities: 0.00 Euro
Hosting organisation support: 250 Euro
Purpose of extra costs:
The work camp participation fee is strictly Euro 250 and this covers simple accommodation, food and project expenses office running/administrative expenses, certificate of participation during the camp, communication prior to, during and after the camp. Please note that this does not include travel expenses to and from the camp, pick up from airport so participants are asked to reserve a small amount of money for transport to the camp and vice-verse. We advise all volunteers to ask for advice from us when they are planning to book their ticket to Pretoria.
Required Language:
English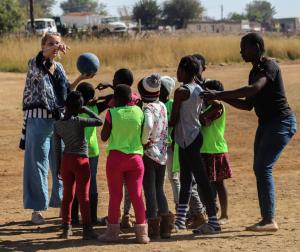 Description: The Sports Development Programme will require volunteers to be involved in different sports activities such as learning simple sports and games activities. Volunteers will interact and teach children sports and artistic activities they have. Trained volunteers will be able to interact with the community too.
This is an exciting project as volunteers have opportunity to work with different communities and interact with children in sports development and have also the opportunity to be hosted by individual family members for their period of stay in the country.
Type of Work: Empowering children in Sports development skills
Intensive work camp project with hands on initiative.
Study Theme: Sports development not only football but any other sporting activities to accommodate both girls and boys in the community
Accommodation: Accommodation: Accommodation will be in a house and venue still to be confirmed both in Soshanguve. Participants will be required to bring their own sleeping bags. The accommodation has a simple bathroom with shower and there is running water. The accommodation and work place have flushing toilets and do have electricity but should expect normal power cuts lasting to 4 hours on various time slots in the week. (Not every day)
Language: Language: The community has multi-cultural people and English is mostly spoken with local languages such as Sotho, Zulu, and Tshwana to name a few.
Requirements: Requirements: Qualification of participants: Open minded, ready to interact with other people of different cultural background - Positive attitude - Willing to share his/her experiences - Flexible to live/stay in simple living conditions - Flexible to eat local food - Ready to do academic work on the project and No experience needed at all. Willingness to guide students especially in cultural an
Approximate Location: Soshanguve, Pretoria South Afica
Notes: Sleeping bag, sun cream, mosquito spray/lotion, sandals, shoes are advisable. Rain coat, light working clothes during working hours and warm clothes at night, as it may turn out to be chilly; Torch or flash light and arts and cultural items such as drums etc. for the children even sporting equipment such as soccer balls etc. and board games.
The Weekend is meant to be for free tours that the group can organize by themselves. All our work camps are reserved for cultural nights when each volunteer can present her/his country and culture.
---
Camp Photographs