Intercultural Building Project (Zürich ZH)
Topic:
11: Climate and sustainable lifestyle
Work Types:
Environment / Manual
Number of places still available:
4
Free places last update:
May 26, 2022
International age:
18 - 99
Required Language:
English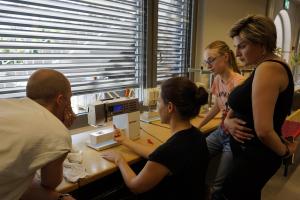 Description: The youth centre "Dynamo" is an open place in Zurich and offers possibilities for young people to realize their own projects. Dynamo offers public work areas, meeting rooms and a stage for concerts. It is a place of encounter and is a great place for art interested people to network and develop new projects and ideas.
This summer we would like to support local, Zurich based social projects with helping them building things. Last year as an example we realized a sundeck for the cultural place "Parkplatz" in Zurich out of wood, metal and textiles. We always try to use leftover materials from our workshops or upcycle old things.
Type of Work: We will be working with various techniques such as woodworking, metalworking, and in general with up- and recycling. There are also the possibilities to include textile working or screen-printing into the project. If you already have a specific know-how in one of these techniques, it would be great! Or if you have other ideas or skills to contribute to the project in whatever way – please let us know.
Study Theme: Everything about the cultural centre "Dynamo" and the project will be presented to the volunteers at the beginning of the week.
Accommodation: The Dynamo provides: 1x mattress per person, 1x fitted sheet per person, washing machine is available; showers and rooms for volunteers are available and can be split by genders, 1x toilet in the residential, more toilets in the main building and working areas, internet available; volunteers are responsible for food shopping and cooking in the evening. For lunch we will have food from our restaurant. It is planned to have vegetarian and vegan diet.
Language: Work instructions in basic English will be provided and the camp coordinator will help translating further details to the volunteers. The local language is Swiss German.
Requirements: Do you want to learn more techniques and realise a concrete project in Zurich? You should be ready to be offline during the workcamp!
NEW INCOMING FEE for volunteers applying via Partner organisations and Contacts of SCI: https://bit.ly/3iiJWI5
Notes: You will be able to participate in 1-2 excursions around Zurich.
Organization Description: SCI Switzerland is a non-profit organisation which promotes intercultural exchange, sustainable development and non-violent conflict resolution. It has been organizing workcamps and long-term exchanges for volunteers worldwide since 1920. Each year more than 100 volunteers from Switzerland engage in SCI projects abroad, while around 200 international volunteers participate in projects in Switzerland. SCI Switzerland is certified by the Intermundo quality label, which guarantees high quality standards in youth exchange. Swiss workcamps are mainly focused on the work with youth as well as in the area of environmental protection. That is why among SCI Switzerland`s values is also an environmentally friendly lifestyle in accordance with the ideas of sustainable development. Volunteers are encouraged to be eco-friendly, especially when travelling to Switzerland and during the projects. Before applying be aware of high travel costs within Switzerland and check prices on the railway website www.sbb.ch. A participation in the camp from the first until the last day is needed for reason of instruction and group dynamic.

---
Camp Photographs