Organic farming at Vanhamäki centre for common good
Topic:
11: Climate and sustainable lifestyle
Work Types:
Agriculture / Environment / Manual
Number of places still available:
7
Free places last update:
Sep 14, 2022
International age:
18 - 99
Required Language:
English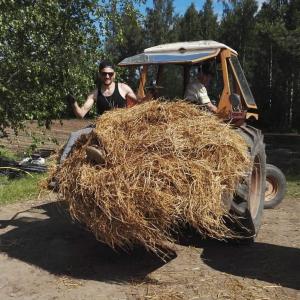 Description: Vanhamäki Foundation organizes camps and recreational days for different groups around the topics of horse riding, sports and organic farming. Vanhamäki has an organic farm and produces different kinds of canned goods, berry powders and green powders. There is also a forest activity park that is aimed for everyone. During its over 100-year history Vanhamäki Wellness center has operated as a center for poor and disabled people, hospital, home for elderly people and as a youth center. Today the foundation is also running a private childcare institution. Throughout the years the aim has remained the same – operate as the center for wellness and common good.
Type of Work: The volunteers will participate in the work of the farm. The tasks include particularly activities of the early farming season, such as planting and seeding. During their free time, the volunteers can go to the sauna, spend evenings by the fire, swim, do sports and go canoeing. The camp is suitable for families with children over 10 years old who can take part in the daily program with their parent.
Study Theme: Organic farming, environmental awareness
Accommodation: In shared rooms, with separate spaces for men and women. Beds and sheets are provided for the volunteers. Lunch and dinner will be served by the camp host but volunteers will prepare their breakfast, possible snacks and weekend meals by themselves.
Approximate Location: Suonenjoki, Eastern Finland
Notes: Covid-19: Due to the possible changes in the coronavirus situation, we will confirm the camp 4 weeks before the starting date. Please don't book your travel tickets before the camp is confirmed.
Additional Fee: Many SCI workcamps will have an additional fee of €50.00. This will cover eg. local hosting costs & international insurance costs of the volunteer. If you apply through an SCI branch the fee will be included in the fee you pay to your sending branch. If you apply through a partner organization you will pay the fee on arrival direct to the hosting branch or through a transfer system. When accepted on the project the host branch will give you more details. Check branches & partners here: https://sci.ngo/about-us/our-movement/where-we-are/