Among the trails of Faia Brava I
Topic:
10: Environment protection
Work Types:
Environment / Restoration, renovation / Work with animals
Free places for Females:
3
Free places last update:
May 11, 2022
International age:
18 - 99
Extra fee to be paid in the hosting country:
40.00 Euro [44 US Dollar]
Breakdown:
Accommodation and food: 20.00 Euro
Transportation: 0.00 Euro
Activities: 0.00 Euro
Hosting organisation support: 20 Euro
Purpose of extra costs:
The accommodation is offered by the host partner (Faia Brava Reserve). Your contribution will help Para Onde on covering food costs and the support of our local team. Para Onde is a non profit organisation not funded by any national or international funds. We guarantee our work by fundraising campaings and the generous help of our volunteers and individual donors.
Required Language:
English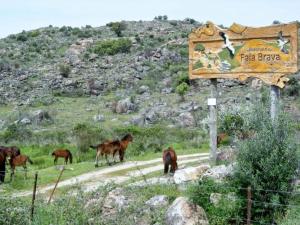 Description: The Faia Brava reserve was recognized as the first protected and privately managed area in the country in 2010 and today, it has almost 1000 hectares dedicated to nature conservation being managed by Associação Transumância e Natureza. You can foind out more information at www.faiabrava.pt
Type of Work: Volunteers will help in different areas, always with the aim of contributing to the conservation and maintenance of the reserve. Some of the activities planned are the cleaning and maintenance of trails, fire surveillance posts, reforestation of some areas, observation and control of the local fauna and others that are necessary.
Study Theme: The project is focused on environmental conservation, so topics related to this area will be addressed. Please notice that this is a very remote region of Portugal, so you'll be in an imersive contact and connection with nature.
Accommodation: The volunteers are housed in an old school, in wards. The facilities include shared bathrooms and changing rooms and a kitchen to prepare your meals. Food will be provided.
Requirements: Be open and positive. The work can be hard sometimes, specially because you'll be working outdoors and temperatures can be high.
Approximate Location: The Faia Brava Reserve is located in Vale do Côa (Côa Valley) - Listed as a World Heritage Site by Unesco since 1998 and considered "the most important open air Palaeolithic rock art site".
Notes: In this region of Portugal, the summer months are characterized by very hot days and mild or cooler nights, so come prepared. You should bring comfortable clothes for working outdoors, hiking/mountain shoes
Organization Description: Para Onde is a Lisbon-based organization that is mainly focused on promoting social inclusion through volunteering. It was born in 2014 as an informative website and, at the end of 2016, it became an active NGO. Para Onde will allow everyone to have the experience to volunteer abroad despite age, budget and professional background/experience. Suitable training will be guaranteed to all those departing on an experience with SCI International.

---
Camp Photographs