Ecole d'Humanité spirit & maintenance (Hasliberg BE)
Topic:
7: Children and youth
Number of places still available:
2
Free places last update:
Jul 01, 2022
International age:
18 - 99
Required Language:
English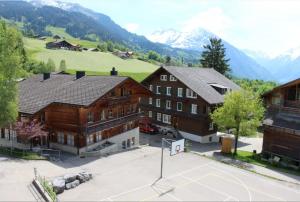 Description: "Ecole d'Humanité" is located in an alpine village between Interlaken and Lucerne. Surrounded by awe-inspiring peaks, the international village for living, learning, and growing is home to students and adults from around 20 different countries. During the work, you will support the maintenance and housekeeping team of the Ecole d'Humanité in preparing the school for the next school year.
Type of Work: 70% Exterior work (Gardening and maintenance of exterior areas). 30% Indoors (such as supporting removals, light renovation work).
Study Theme: A team member of the school will give you an interesting insight into the rich history of our school. In the early 20th century, the founders of our school had to flee the Nazis and came to Switzerland. Students of different cultural backgrounds live, learn and grow together in order to increase intercultural understanding. Their educational ideas were radical at that time but some are quite modern, still "progressive", sustainable, and "hands on", such as less consumption or a simple but creative "DIY" life style in a tolerant, open and value-based community.
Accommodation: Volunteers will live in simple double rooms with shared toilets and showers. Beds are fully equipped. Volunteers can use the laundry machines. There will be WIFI for volunteers. Volunteers will be responsible for preparing the food. Provided food will be mainly vegetarian.
Language: Common language in the camp will be English. Local language is Swiss German.
Requirements: NEW INCOMING FEE for volunteers applying via Partner organisations and Contacts of SCI: https://bit.ly/3iiJWI5
Notes: Here is a short film with pictures and impressions of the Ecole: https://www.youtube.com/watch?v=vUFY8BuwZsQ Here is an impression from our test hike: https://youtu.be/gMmCmrLnrIc
Organization Description: SCI Switzerland is a non-profit organisation which promotes intercultural exchange, sustainable development and non-violent conflict resolution. It has been organising workcamps and long-term exchanges for volunteers worldwide since 1920. Each year more than 100 volunteers from Switzerland engage in SCI projects abroad, while around 200 international volunteers participate in projects in Switzerland. SCI Switzerland is certified by the Intermundo quality label, which guarantees high quality standards in youth exchange. Swiss workcamps are mainly focused on the work with youth as well as in the area of environmental protection. That is why among SCI Switzerland`s values is also an environmentally friendly lifestyle in accordance with the ideas of sustainable development. Volunteers are encouraged to be eco-friendly, especially when travelling to Switzerland and during the projects. Before applying be aware of high travel costs within Switzerland and check prices on the railway website www.sbb.ch. A participation in the camp from the first until the last day is needed for reason of instruction and group dynamic.

---
Camp Photographs