Back to the Roots II (Bernkastel-Kues near Koblenz)
Topic:
11: Climate and sustainable lifestyle
Work Types:
Agriculture / Environment / Restoration, renovation
Number of places still available:
3
Free places last update:
Jul 28, 2022
International age:
18 - 99
Required Language:
English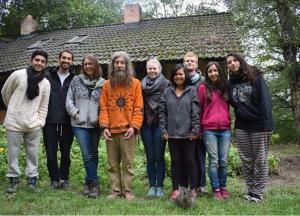 Description: Experience a unique alternative lifestyle and learn more about the diversity of crops. In the sign of exploitation of Mother Earth and rising inequalities in the world, we need to rethink our way of living and the way we use resources. Friedmunt Sonnemann is someone who has been living consistently a simple life for many years and made an alternative lifestyle a reality, (check this out https://youtu.be/Zu_NPtxZtrQ). He cultivates rare and forgotten crop plants whose seeds he sells to allotment gardeners. The remote cottage is an hour's walk uphill from the wine-growing town Bernkastel-Kues. There is running water, spring water and solar power in a room. In the evening Campfire, durming and singing.
Type of Work: Depending on the weather: field work (tending crops, weeding); maintenance of constroction Tiny houses; other handicraft activities.
Study Theme: Preservation of threatened diversity of cultivated plants; biological variety development.
Accommodation: In the barn ; composting toilet, solar shower; only vegetarian food
Language: English
Requirements: Adaptation to a simple lifestyle, ; motivation and willingness to experience and endure life close to nature and to work physically 6 hours a day. Discover the simple life without internet access. Do not bring a rolling suitcase, but a backpack.You will walk for one hour through the forest.
Approximate Location: Covid-19: We organise our workcamps according to the regulations at the time of the workcamp. We will inform you about this in the Infosheet and by email. Please mind the vaccination and testing regulations for entering Germany: https://t1p.de/at82o
Notes: Please kindly note that there is an additional incoming fee of 50 € for all volunteers applying through Partner organisations or Contacts of the SCI network. This will cover international insurance costs of the volunteer and administration costs of SCI International. For volunteers coming from countries with SCI Branches and Groups there is no additional incoming fee. You can check the status of your local sending organisation here: https://rb.gy/fveuew. If this fee exceeds your financial ability, please make a comment in your application.
Organization Description: This workcamp is organized by the German branch of Service Civil International (SCI). SCI Germany was founded in 1946 and is approved as a non-profit organisation. We are one of the oldest peace and volunteer organisations. SCI Germany aims to promote peace, non-violence, international solidarity, social justice, sustainable development and cross-cultural exchange through international voluntary work. We cooperate with a network of branches and partners in more than 90 countries. Every year, SCI Germany organizes about 50 international workcamps in Germany.

---
Camp Photographs