Discovering Sicilian culture at Mirabella
Topic:
12: Art, culture and local history
Work Types:
Environment / Manual
Number of places still available:
2
Free places last update:
Aug 05, 2022
International age:
18 - 99
Required Language:
English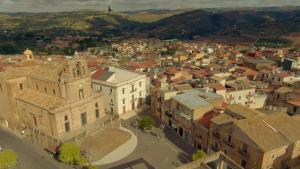 Description: The Pro Loco Association is proposed as a driving force for the promotion and enhancement of the history, culture and tradition of the town. With the aim of handing down to future generations the heritage of memory. The association aims to enhance and promote events with both culture and gastronomy. We ... custodians of territorial identity. Mirabella Imbaccari is a village of 4,200 inhabitants in the center of Sicily, close to 2 major cities rich in art and history (Caltagirone and Piazza Armerina 18 km to 10 km). The town was founded in 1610 and is characterized by an agricultural economy and a long history of emigration; important center of South Italy for the bobbin lace.
Type of Work: working hours scheduled 6 hours daily.The purpose of the project is to to clean the path of the Way of St James in Sicily (in the part that concerns the municipality of Mirabella) and create signals that will be positioned along the access and exit path from the town of Mirabella. The activities take place outside the town and at the headquarters of the Pro Loco association. Some manual workshops are planned to support the association's activities (for example making of blackout curtains). The Way involves 9 sicilian municipalities and connects the city of Caltagirone and the mountain village of Capizzi (the two communities are guardians of important relics of Saint James). Mirabella Imbaccari is the first stopping point of a route long about 130 km. https://www.camminosangiacomosicilia.it
Study Theme: The volunteers will be introduced to the history and traditions of Mirabella Imbaccari and will have the opportunity to immerse themselves in the culture of a Sicilian town, working side by side with the youths of the community.
Accommodation: A complete apartment with all facilities (House of Pilgrim in via Giuseppe Lupis) - bring your sleeping bag
Language: If possible it requires a basic knowledge of Italian
Approximate Location: The camp will take place in Mirabella Imbaccari village in center Sicily.
Notes: Excursions in the area (and beach) - carrying items (traditional clothes, music CDs, recipes, etc..) for the presentation of their own culture (also for a show).
Please kindly note that there is an additional incoming fee of 50 Euros for all volunteers applying through Partner organisations or Contacts of the SCI network. Check the status here: https://bit.ly/3vhBD5J. This fee covers hosting costs, insurance, a small travel fund to enable disadvantaged volunteers to join projects and administration costs and is to be paid on arrival at the project or online directly to the hosting branch. For volunteers coming through SCI Branches and Groups there is no additional incoming fee, since the costs covered by the additional fee are included in the amount paid to the sending branch.
---
Camp Photographs