Permaculture Garden Center (Podlodówek, near Lublin)
Topic:
11: Climate and sustainable lifestyle
Special Topics:
Climate for Peace Programme
Work Types:
Agriculture / Environment / Manual
Free places for Females:
0
Free places last update:
Aug 04, 2022
International age:
18 - 99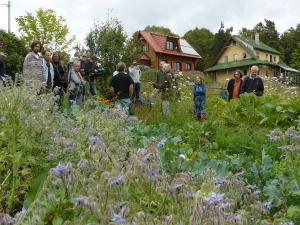 Description: The workcamp is organized in cooperation with Fundacja Ogrody Permakutury that runs the Educational Permaculture Garden Center in Podlodówek, a small village located in the south-eastern Poland, in the community of Michów, near Lublin. The Center's educational work is based on over 20 years of experience in running a permaculture educational habitat. Together with a group of friends, they create the nucleus of an eco-settlement based on the ethics and practical principles of permaculture. Apart from growing food, developing eco-friendly technologies, they run workshops, give lectures, publish and translate books. The aim is to promote permaculture, healthy lifestyle, greater independence, vegetarianism, ethical, heart-felt attitude towards nature, surrounding animals and people.
Type of Work: The aim of the project is to learn about the philosophy and practice of permaculture, and to support the members of the community running the Educational Permaculture Garden Center in their daily work in eco-settlement. Volunteers will perform tasks such as gardening, renovating and building with simple materials such us straw blocks and clay. We are looking for nature lovers and volunteers interested in learning about permaculture, sustainable and alternative lifestyles and open to diversity. You also have to be moderately fit and ready to perform physical work.
Study Theme: Permaculture, healthy lifestyle, learning how to live in harmony with nature, other people and non-human beings.
Accommodation: In one of the buildings in the eco-settlement, in a common room in the attick (mattresses will be provided, volunteers should bring their own sleeping bags) with an access to solar shower and dry composting toilets.
Language: English
Requirements: Vegan and vegetarian food is available.
Approximate Location: Small village of Podlodówek in the administrative community of Michów. 40 km from the city of Lublin.
Notes: We ask all participants to check with their health insurance provider how to proceed in case of illness or accident. Please remember that the insurance from SCI is not valid during your trip to and from the workcamp and is valid only during the camp period! Volunteers from EU must bring their European Health Insurance Card.
---
Camp Photographs