The floor is yours: Debate and argue
This project is part of the SCI North South Programmes. Volunteers should be 20 years old, have previous volunteering experience and take part in the Preparation Workshops organised by their sending branch. More details from your sending branch.

Topic:
7: Children and youth
Work Types:
Language study / Study, discussion, research
Free places for Females:
6
Free places last update:
Feb 14, 2023
International age:
18 - 99
Extra fee to be paid in the hosting country:
220.00 Euro [240 US Dollar]
Breakdown:
Accommodation and food: 20.00 Euro
Transportation: 20.00 Euro
Activities: 125.00 Euro
Hosting organisation support: 55 Euro
Purpose of extra costs:
Astovot as any association in Togo does not benefit from any subsidy from the Togolese State. It is the participation fees of the volunteers that enable Astovot to finance its projects. The cost of participation in volunteer workcamps amounts to 220€ per person for 2 to 3 weeks. This participation will cover : accommodation costs; food; accompaniment of the group; administrative costs; purchase of materials and equipment for the project; communication and evaluation. The funds paid by the volunteers are distributed as follows: 3/4 for the organization of the project and 1/4 for the administrative management of ASTOVOT.
Required Language:
French
Motivation letter:
This camp requires an additional motivation letter to explain in more detail why you would like to attend.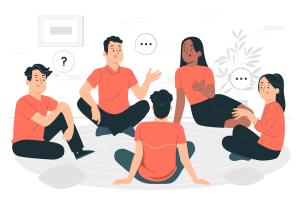 Description: In a community, there may be disagreements between members, but everyone has the right to have their own ideas and to confront them with those of others. It is not a confrontation, but a discussion where everyone can express themselves freely. Debate allows children to be introduced to kindness, reflection, sharing, respect and trust. A slam workshop will also be offered to children. Expressing oneself in public, structuring one's thoughts and words, defending one's point of view and listening to others are important qualities for life in a community. Debating cannot be improvised and requires setting up frameworks and learning rules that encourage distancing, listening and critical thinking.
Type of Work: Learning the rules of debate and public speaking; Participation in a slam workshop Researching topics that directly affect children and learning to structure arguments; Creating a framework for intercultural exchange, which benefits volunteers, students and children Building a lectern Opening of registration lists for interested parties (secondary school students); Preparation of the training modules and training schedule; Evaluation and delivery of certificates to participants
Study Theme: Learn to speak in public; Learn to debate, argue and convince; Practice expressing yourself in French
Accommodation: Accommodation is generally basic and specific to the location. The number of people per room depends on the collective organisation of the volunteers themselves. Depending on the location, volunteers may use dry toilets and showers without running water. This means that volunteers will have to fetch water from a fountain or a well. We provide volunteers with plastic or foam mats. Volunteers who have sleeping bags, sleeping mats and a mosquito net can bring them with them. Access to drinking water on the site. However, access to electricity and internet may be limited depending on the village.
Language: The project aims to practice public speaking in French, which is the national language of Togo. It is therefore imperative for volunteers to have a good command of French in order to be able to participate fully in the work camp.
Requirements: This project requires a high level of motivation on the part of the volunteers, as it involves a permanent mobilisation of the volunteers around the organised activities. Volunteers must have a real interest in interculturality and solidarity.
Approximate Location: Located 120 km north of Lomé, the commune of Kpalimé is the ideal place for nature lovers and hikers who wish to discover beautiful mountainous landscapes and tropical flora. Numerous natural waterfalls will allow you to refresh yourself at the water's edge. With about 105,000 inhabitants, Kpalimé is a tourist town in the Plateaux region. The capital of the Kloto prefecture, Kpalimé is home to numerous infrastructures and all public and administrative services are represented. You will find also a market, art shops, shopping centres, bars, restaurants, discotheques, etc.
Notes: During the workcamp, the volunteers will cook their own meals. An internal organisation will allow for the creation of groups that will alternate to carry out the different domestic tasks, including cooking. Food products used for cooking are sometimes imported, local and organic. The diet of each volunteer will be taken into account in the preparation of meals. Volunteers will have access to tropical fruits such as bananas, oranges, pineapples, mangoes, avocados, papayas, etc In addition to the main activities of the workcamp, other activities are organised such as: discovery walks, hikes, festive outings and cultural meetings. It should be noted that the expenses related to the excursions and the volunteers' outings are not included in the participation fees.