Katree village (Rice planting, community learning)
This project is part of the SCI North South Programmes. Volunteers should be 20 years old, have previous volunteering experience and take part in the Preparation Workshops organised by their sending branch. More details from your sending branch.

Topic:
13: Community life
Work Types:
Agriculture / Work with children / Social
Number of places still available:
15
International age:
18 - 99
Extra fee to be paid in the hosting country:
9500.00 Thai Baht [273 US Dollar]
Breakdown:
Accommodation and food: 4000.00 Thai Baht
Transportation: 1000.00 Thai Baht
Activities: 2000.00 Thai Baht
Hosting organisation support: 2500 Thai Baht
Purpose of extra costs:
The fee is fixed to 9,500 Baht per person for the 2 weeks. The fee will be used on one part for living expenses (gas, water, electricity, food, transport) and materials used in projects/activities and for the other part to support financially our organization. Volunteers' fee is our only income. Volunteers should bring their fee payment in cash the first day they arrive. We prefer the Thai currency not Euro so please exchange it before. In case saving it on international credit card, you should make sure with your bank if your card really works with any Thai ATM machine. Participants are responsible for their own travel and all personal expenses during the free time.
Required Language:
English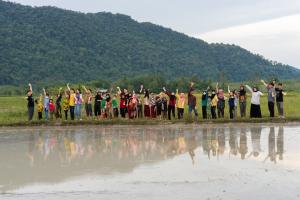 Description: Katree is a strong Muslim community from Satun province, Southern Thailand. With DaLaa, we use to work with the youths from Katree seed club, welcome them in our work camp both in Thailand and abroad. This time will be the first time that we will organize work camp in Katree village. During September is the season of rice planting, the volunteers will learn and work together with local people for rice planting process.
Type of Work: 1. To work on rice field, (Planting rice)
Organizing activities with kids on the weekend
Learning the local life of this village
Study Theme: Rice planting, learning culture creating games and activities for kids.
Accommodation: Volunteers will sleep at the village learning center. There will be simple mats, pillow and mosquito net. You will need to bring your sleeping bag or light blanket. There are basic toilets, showers and a kitchen.
Language: English and Thai will be the language in the camp.
Requirements: The volunteers should be ready to stay in a remote area, to adapt to the local conditions with only basic facilities. Not many local people are able to speak English. Volunteers should be able to handle spontaneous working environment and constant changes in the plans. The mentality and way of thinking is very different from the western world. There will have activities with the children.
Approximate Location: Ketree village A.Muang, Satun province, Southern Thailand