Ecological farming for saving our planet (Marth near Göttingen, in the centre of Germany)
Topic:
11: Climate and sustainable lifestyle
Work Types:
Agriculture / Construction / Environment
Number of places still available:
3
Free places last update:
Jul 13, 2023
International age:
18 - 99
Required Language:
English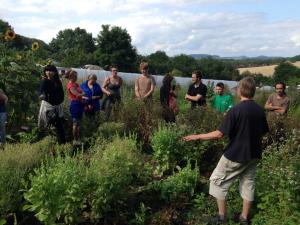 Description: In a village in the midst of a beautiful hilly landscape lies the "Kastanienhof", an old, four-sided half-timbered farm, which today belongs to the non-profit association "Lebens und Agrarkulturelle Initiative e.V.". Its goals are: ecological agriculture with the aim of preserving old crops and endangered farm animals, renewable energies, historical-biological building and communal living. A multigenerational house is also being built. The Kastanienhof also offers kindergarten groups, school classes, students and other groups the possibility to get to know ecological agriculture in a very practical way or to deal with it more deeply in seminars, e.g. on ecological agriculture and gardening, ecological seeds, half-timbered restoration or regenerative heating systems.
Type of Work: The Kastanienhof organizes two construction weeks every year, bringing together members of the association, dedicated craftsmen, former and current volunteers and an international SCI work camp. Work is done on the listed building: woodwork, plastering with clay and cement, building on scaffolding. You learn a lot of craftsmanship. In addition, there will be small agricultural work and there will be a joint harvest and cooking for all helpers. On the weekend of 5-6.8.2023, the Kastanienhof participates in the medieval market festival on the castle "Burg Hanstein" with the sale of products and homemade ice cream. Here you are welcome to help. The medieval market is definitely worth a visit.
Study Theme: Many topics are possible. Depending on the interest of the volunteers, information can be given about biological and historical building, renewable energies (solar, vegetable oil, biomass), ecological agriculture and horticulture, the preservation of old crops and livestock breeds or climate protection in general. Also an exchange on these topics and on the political situation in the countries of origin of the participants could take place.
Accommodation: The work camp will be housed in tents with mattresses and sleeping mats in the attic of the barn and the residential house. There is also the possibility to pitch your own tent. Sanitary conditions are basic but clean, with a nicely designed bucket toilet and solar shower outside and hot shower inside the residence. There is also a small pool overlooking the valley in the "chill out" area. Meals consist of freshly harvested and other farm-grown organic produce, as well as purchased organic quality food. Vegan and vegetarian food is available.
Language: English.
Requirements: Willingness to do six hours of physical labor daily. Appropriate disguise is needed for the medieval festival on the weekend. Feel free to bring something for it. Otherwise you can find something at the Kastanienhof.
Approximate Location: The small village of Marth is located in the middle of Germany: in the "Dreiländereck" in Thuringia (former East Germany), near the border with Hessen and Lower Saxony (former West Germany). It is surrounded by picturesque hilly natural landscape with castles and other ancient monuments. The beautiful small half-timbered town of Hannoversch-Münden and the traditional university town of Göttingen are easily accessible by train and can be visited.
Notes: The common language within the workcamp is English. Since most of the other helpers come from Germany, it will be possible to learn or improve the German language in this camp. There are also French speakers on site. INCOMING FEE for volunteers applying via partner organisations and contacts of SCI: https://sci-d.de/incomingfee
Organization Description: This workcamp is organized by the German branch of Service Civil International (SCI). SCI Germany was founded in 1946 and is approved as a non-profit organisation. We are one of the oldest peace and volunteer organisations. SCI Germany aims to promote peace, non-violence, international solidarity, social justice, sustainable development and cross-cultural exchange through international voluntary work. We cooperate with a network of branches and partners in more than 90 countries. Every year, SCI Germany organizes about 50 international workcamps in Germany.

---
Camp Photographs