Life in the German-Polish Children's City (Görlitz, east of Dresden on the border with Poland)
Topic:
7: Children and youth
Work Types:
Work with children
Number of places still available:
10
Free places last update:
Mar 13, 2023
International age:
18 - 99
Required Language:
English
Spoken Language:
German, Polish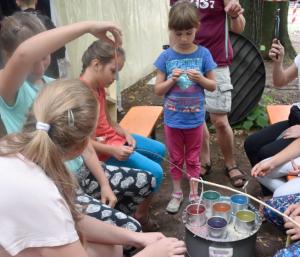 Description: The project Kinderstadt "nasze miasto - our city" was founded in the summer of 2004 in Görlitz and since then takes place every 2 years. The children's city is a vacation offer for children between 7 and 14 years. Since the project is a bilingual offer in German/Polish, children from the German/Polish city of Görlitz/Zgorcelec (Germany/Poland) can come closer together during the two weeks. They can take on the roles of adults and decide what should happen in their city. In the city, built in a central location from huts and tents, they work in different professions and live together. The aim of the project is to create an understanding of how people live together and an interest in other cultures, and to develop this new social competence.
Type of Work: All children who come to the city register, go to the employment office and practice a profession. Whether they work as bakers, policemen or nurses, the young citizens of the city get a taste of adult working life. They also earn money, which they can use to take advantage of recreational opportunities and services and pay for products made in the city. The task of the SCI volunteers is to support the children and young people at their workplaces and to help with the leisure activities, for example in the theater, bakery, hospital, café or cosmetics store. There is also supporting work for the Children's City, such as setting up and taking down the tents and booths.
Study Theme: Getting to know the concept of a "children's city". A children's city is a pedagogically supervised large-scale play project that supports children's participation and learning of democracy. For more information on Kinderstadt, visit www.kindermiasto.eu The city of Görlitz, known from numerous Hollywood movies, is worth exploring in more detail, a guided tour of the city can be organized.
Accommodation: Shared accommodation in a youth club within walking distance of Kinderstadt. Overnight stay in a room without gender separation. Please bring a sleeping mat and sleeping bag. Lunch from Monday to Friday is shared with the children in the Kinderstadt. All other meals must be prepared in the youth club itself. The work camp group has its own lounge in the youth club, a kitchen and gender-separated sanitary facilities with showers. The children leave the Kinderstadt at 5 p.m. and go to their families, so that the work camp group is among themselves in the evenings and on weekends.
Language: The language within the workcamp is English. The languages in the Kinderstadt are German and Polish. It is a great advantage to understand one of them at least a little bit.
Requirements: Flexibility and willingness to integrate into the requirements of the Children's City, which opens its doors at 8:00 a.m. Monday through Friday and closes them again at 5:00 p.m. each day. Openness and sociability as well as a sensitive approach to the children are required.
Approximate Location: Görlitz is the easternmost city in Germany, about 90 km east of Dresden, and is located in the state of Saxony. The Neisse River flows through the city, dividing it since 1945 into the western, German part (Görlitz) and the eastern, Polish part (Zgorzelec). Today, Görlitz and its Polish sister city Zgorzelec jointly call themselves the "European City". Best known is the well-preserved old town, whose buildings date from different eras and display a variety of architectural styles.
Notes: On weekends it is possible to make a trip to Dresden or to the Polish city of Wroclaw. At the Berzdorfer See you can swim and canoe, trips to the Königshainer Berge or the Zittauer Gebirge are possible. In the house where the work camp takes place, there is also a climbing wall and game facilities such as table football, table tennis, billiards, etc.. INCOMING FEE for volunteers applying via partner organisations and contacts of SCI: https://sci-d.de/incomingfee
Organization Description: This workcamp is organized by the German branch of Service Civil International (SCI). SCI Germany was founded in 1946 and is approved as a non-profit organisation. We are one of the oldest peace and volunteer organisations. SCI Germany aims to promote peace, non-violence, international solidarity, social justice, sustainable development and cross-cultural exchange through international voluntary work. We cooperate with a network of branches and partners in more than 90 countries. Every year, SCI Germany organizes about 50 international workcamps in Germany.

---
Camp Photographs