Topic:
5: Poverty and social injustice
Work Types:
Festival / Social
Free places for Females:
0
Free places last update:
Aug 01, 2023
International age:
18 - 99
Extra fee to be paid in the hosting country:
50.00 Euro [54 US Dollar]
Breakdown:
Accommodation and food: 0.00 Euro
Transportation: 0.00 Euro
Activities: 0.00 Euro
Hosting organisation support: 50 Euro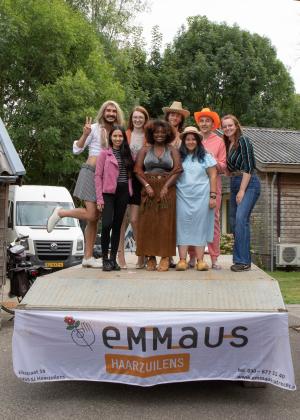 Description: Emmaus Communities around the world enable people to move on from homelessness, providing work and a home in a supportive, family environment. Companions, as residents are known, work full time collecting, renovating and reselling donated furniture. This work supports the community financially and enables residents to develop skills, rebuild their self-respect and help others in greater need. Companions receive accommodation, food, clothing and a small weekly allowance, but for many, the greatest benefit is a fresh start. To join a community, they sign off unemployment benefits and agree to participate in the life and work of the community and abide by its rules, for example not bringing drugs or alcohol into the community. Emmaus is a secular movement, spanning 36 countries. Our partner, Emmaus Haarzuilens, is a live/work community for former homeless people and others who strongly feel related to Emmaus ideology. Volunteers will not only work, but also live together with the inhabitants of Emmaus Haarzuilens. Living together also means preparing and eating meals together and do some cleaning and light house work. It also means that volunteers are expected to live by the rules of Emmaus Haarzuilens, for example not bringing alcohol and/or drugs into Emmaus communities.
Type of Work: This project will take place in cooperation with Emmaus Haarzuilens where the volunteers will live and work together with the residents of Emmaus. Because of the summer market, which will take place at the end of the project, this period of year will be extra busy for the Emmaus residents. The volunteers will help out where necessary, which can mean some days can be busier and others can be less so. The work will include picking up second hand goods together with the Emmaus residents, sorting them and placing them in the shop. Also, the volunteers will help with gardening and other maintenance work on the grounds of the community and help in the kitchen as well. At the end of the project the volunteers will help with the set-up and dismantling of the festival and they will also organize a fashion show in which they will present some of the second-hand clothes that are for sale.
Accommodation: You will stay in a comfortable accommodation at the Emmaus terrain. -Beds and pillows are provided for, but you need to bring a sleeping bag. There is a common bedroom (so men and women combined). -You will cook and eat together with the residents of Emmaus. -The volunteers can make use of the (sanitary) facilities of the Emmaus building. -There is a separate shower and toilet available for the group. Towels and toiletries must be brought by the participants. -The participants can make use of the washing machine of the Emmaus group. -Wi-Fi is available in the building where the participants stay.
Language: eng,
Requirements: Note: There is no student discount for this project. The participation fee for this project is aO50 for foreign volunteers and aO225 for participants living in the Netherlands. The participation fee should be paid in cash upon arrival. No preparation training is required for the participants.What to bring:Must bring (obligated)1)Sleeping bag 2)Old working clothes and shs 3)During the summer season there can be many mosquitos in the area where were staying. We therefore recommend all participants to bring mosquito repellent 4)Rain is spread out over the year, so bring warm clothes, a raincoat and a swimming suit 5)Towels and toiletries Wise to bring: 1)Recipes from your own country 2)Drivers license that is valid in Holland, in case you have one 3)Sunglasses and something on your head against the sun Nice to bring: 1)Musical instruments, ideas for games/activities 2)Energy, enthusiasm and an open mind 3)A sense of humor This fee is spend on food, utilities or transportation during the projects (renting bikes, buying bus- of train tickets or getting groceries for the group of volunteers) and has to be paid on arrival at the work camp.
Approximate Location: Haarzuilens is a small village in the Dutch province of Utrecht. It is part of the municipality of Utrecht, and is situated about 8 km west of Utrecht. The village of Haarzuilens is famous for De Haar Castle, which is surrounded by gardens. The nearby city of Utrecht is the fourth largest city of the Netherlands. Utrecht s ancient city centre features many buildings and structures from the Early Middle Ages. It has been the religious centre of the Netherlands since the eighth century. Until the Dutch Golden Age, Utrecht was the most important city of the Netherlands until Amsterdam became its cultural and most populous centre. Together with your camp leaders you will discuss the recreational program. For example, you can explore the beautiful historical city centre of Utrecht by bike, climb the Dom tower, go caning on the canals, visit a museum or other places in the Netherlands. Your camp leaders will have some ideas, but of course it is possible for the volunteers to put forward their own ideas for this program
---
Camp Photographs