Local Traditions with International Skills at Folk Music Festival
Topic:
12: Art, culture and local history
Options:
Wheelchair Accessible
Work Types:
Art / Construction / Festival
Number of places still available:
9
Free places last update:
Mar 09, 2023
International age:
18 - 99
Required Language:
English
Child friendly camp
Yes (Minimum age: 0)
Motivation letter:
This camp requires an additional motivation letter to explain in more detail why you would like to attend.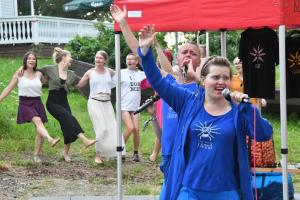 Description: Rääkkylä Kihaus is one of Finland's most important annual international folk music events. Under the name Kihaus, the event has been organized annually in July since 1991. Previously, the event was known as Heinähupa, which started in 1970. See the festival webpage here: https://www.kihaus.fi/ (in Finnish)
Type of Work: The main task of the camp is first to practice a common repertoire to perform at the festival. There will be several performances during the festival. Ideally, volunteers will form also a bigger orchestra with the local musician members and rehearse a small repertoire for the festival with them. In addition, there will be light physical tasks related to the background arrangements of the festival. The camp is also aiming to collaborate with the local Finnish Red Cross unit to include Ukrainians fleeing the war.
Study Theme: Friendship, creativity, and cooperation across borders; Finnish and local traditions which include e.g. a visit to a famous "kantele" (Finnish zither) instrument-building workshop.
Accommodation: Beds with bedding will be provided. A kitchen is available for the volunteers to cook in shifts apart from lunch, which is served near the festival area.
Requirements: Applicants to the camp are expected to have basic skills in a folk musical instrument (can also be a vocal instrument) and 1-2 pieces of repertoire to present and practice with others at the festival. Please specify your skills in a free-form motivation letter.
Approximate Location: Municipality of Rääkkylä, Eastern Finland
Notes: We recommend double-checking that your insurance covers your travel costs in case of unlikely but possible camp cancellation e.g. due to sudden changes in the Covid pandemic. We prefer sustainable travel.
Additional fee: Some SCI workcamps will have an additional fee of €50.00. This will cover e.g. international insurance costs of the volunteer and a small travel fund to enable disadvantaged volunteers to join projects. If you apply through a partner organization you will pay the fee directly to the hosting branch according to their instructions. Check here whether you're applying through the SCI branch or partner: https://sci.ngo/about-us/our-movement/where-we-are
All the KVT Finland camps are published by the end of March 2023.
---
Camp Photographs