Friendships across social borders
Topic:
9: People with disabilities
Options:
Wheelchair Accessible
Work Types:
Work with people with disabilities / Work with children / Social
Number of places still available:
0
Free places last update:
May 02, 2023
International age:
18 - 99
Required Language:
English
Child friendly camp
Yes (Minimum age: 3)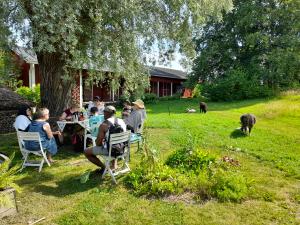 Description: Äijälä Home is situated near Jyväskylä in Central Finland. The community's aim is to support its clients in their everyday life and life management. The community works with organic gardening and it has a charming old farmhouse that has been renovated to host disabled people for daily visits and during the holidays. Äijälä Home also offers supportive work activities for long-term unemployed people and preserves traditional culture and working methods. Äijälä has been hosting KVT workcamps since 1980.
Type of Work: The volunteers are going to help and assist with two separate, a-week-long camps. In the first week, the camp will be for disabled people, and in the second week for children. Together with campers volunteers will learn about nature, traditions, and the English language through arts and crafts, play, and games. There will also be some gardening work. The aim is to provide unforgettable memories for disabled people and kids by working and spending time together across social borders. Work will be done together with the other workers of the community.
Study Theme: Diversity of people; ecological & communal living
Accommodation: In shared rooms in a 200-year-old wooden farmhouse, the main building of the farm. The camp is suitable for families if the kids can keep up with the work. Volunteers with disabilities are welcome too but should be aware that moving around the house or garden can require some assistance (there are e.g. doorsteps and sand & grass in the garden).
Requirements: Since some of the work is done with children, a volunteer needs to present a criminal record according to Finnish child welfare regulations.
Approximate Location: Jyskä, near the city of Jyväskylä in central Finland
Notes: We trust that the impact of our travels is a shared concern and if you can, please prefer more eco-friendly options than taking a plane.
We recommend double-checking that your insurance covers your travel costs in case of unlikely but possible camp cancellation e.g. due to sudden changes in the Covid pandemic.
Some SCI workcamps will have an additional fee of €50.00. This will cover e.g. international insurance costs of the volunteer and a small travel fund to enable disadvantaged volunteers to join projects. If you apply through a partner organization you will pay the fee directly to the hosting branch according to their instructions. Check here whether you're applying through the SCI branch or partner: https://sci.ngo/about-us/our-movement/where-we-are
---
Camp Photographs