Communal, sustainable living & culture at Finnish countryside
Topic:
12: Art, culture and local history
Work Types:
Work with elderly people / Manual / Restoration, renovation
Number of places still available:
0
Free places last update:
Jul 21, 2023
International age:
18 - 99
Required Language:
English
Child friendly camp
Yes (Minimum age: 14)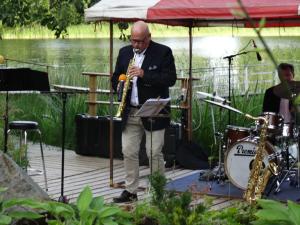 Description: The focus of the camp organizer, Saarela's cultural association, is inclusion and social responsibility, as well as, for example, the revival of traditional handicrafts and art around them. The association organizes many cultural activities, from art exhibitions to music events and various workshops. The village association organizes this work camp in the Lehtoniemi Garden (www.lehtoniemipuutarha.eu), which is at the center of these events and offers people a place of community and things to do together during the summers, as well as beautiful surroundings to enjoy some peace and calmness.
Type of Work: There are various tasks during the camp. The volunteers will assist with organizing events like jazz-concert and summer cafes. Another mission is meeting local retired people and helping them in their daily routines. The third central theme is to participate in gardening work in the garden, also some small renovation works might be done in the area. The aim is, by meeting the locals, to provide knowledge and understanding of the traditional living style in the countryside: how it used to be and how is it nowadays for these people who decided to stay. Traditional handicrafts and art inspired by them play a big role in the village's community and volunteers will get an opportunity to learn about them in different workshops.
Study Theme: North-Savonian culture, sustainable living, and relationship with nature, local traditions & handicrafts, social work: introduction to inclusion and retired person's life in Finland
Accommodation: In shared rooms (1-3 persons) and in tents. Toilets and showers are in the main house, and also a possibility to wash your laundry. The camp is suitable for families if the kids can keep up with the work (14+ years). Meals are mainly based on local, organic ingredients, volunteers will also participate in collecting some of the ingredients from the forests and the garden (berries, veggies, etc.). Volunteers will participate in cooking and will learn some food preservation. Note: Please note that the host has two dogs, in case you are allergic.
Approximate Location: Saarela village is located in North Savonia (nearly in the middle of Finland). To the nearest bigger village, and therefore the nearest shop, is 30 km. During leisure time, different outdoor activities are possible: enjoying the beautiful summer, swimming and sauna, forest trips, biking, etc.
Notes: We trust that the impact of our travels is a shared concern and if you can, please prefer more eco-friendly options than taking a plane.
We recommend double-checking that your insurance covers your travel costs in case of unlikely but possible camp cancellation e.g. due to sudden changes in the Covid pandemic situation.
Some SCI workcamps will have an additional fee of €50.00. This will cover e.g. international insurance costs of the volunteer and a small travel fund to enable disadvantaged volunteers to join projects. If you apply through a partner organization you will pay the fee directly to the hosting branch according to their instructions. Check here whether you're applying through the SCI branch or partner: https://sci.ngo/about-us/our-movement/where-we-are
---
Camp Photographs