Solidarity Volunteering Academy
Topic:
2: Refugees, immigrants and ethnic minorities
Special Topics:
COM_SCIOPS_CAMPS_NO_MORE_WAR_LABEL
Work Types:
Teaching / Work with children / Social
Number of places still available:
3
Free places last update:
Sep 07, 2023
International age:
18 - 100
Required Language:
English
Motivation letter:
This camp requires an additional motivation letter to explain in more detail why you would like to attend.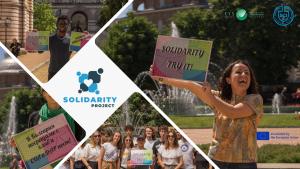 Description: Within the Solidarity project we are organising a volunteering workcamp "Solidarity Volunteering Academy", which will take place from 14th to 24th September 2023 in reception centers in Sofia(study visit) and Banya village(workcamp activities), where a group of eight international volunteers and two coordinators will carry out educational, recreational and sports activitities for children, youngsters and adults. With this workcamp we would try to break the situation of isolation of the center and create a space where the volunteers and the asylum seekers could meet and work together.
Type of Work: Together the volunteers will ceate an activity plan for the working days and will carry out the workshops in the reception centers of the State agency for refugees. Our aim is to encourage the intercultural exchange between internationals volunteers and asylum seekers and thus empower the asylum seekers and bring some light in their daily routine in the center, where they await the decision about their asylum claim. The main objective is to help the asylum seekers to feel accepted and reclaim their dignity and to facilitate their integration into the society.
Study Theme: In the first days of the workcamp the volunteers will stay in Sofia and will have the oportunity to meet experts in the field of forced migration and learn more about the situation of asylum seekers and holders of temporary and international protection in Bulgaria. The volunteers will organize and lead different workshops for the residents: sport, handicraft, cooking, visits. Light physical work may be involved if needed (cleaning, painting ect.) Each volunteer will be encouraged to share their experience and special skills with the refugees.
Accommodation: Sofia (14-17th September): hostel/hotel type Banya village (17-24th September): hostel/hotel type
Language: English (knowledge of Russian, Ukrainian,Arabic, Farsi оr Dari is welcome)
Requirements: Please send your motivation letter together with your application. Proved clean police record required upon arrival. Volunteers with an experience with kids/youth and/or working with refugees are welcome to take part in the workcamp. Don't worry if you are not experienced, we expect to have creative volunteers with an open minded approach and big heart.
Approximate Location: Sofia - 14-17 September 2023 Banya village - 17-24 September 2023
Notes: Solidarity project is implemented under the SCI's Re-granting Scheme(FSTP), funded by the European Union's CERV(Citizens, Equality, Rights and Values) Programme.
Organization Description: http://cvs-bg.org/ https://www.facebook.com/CVS.Bulgaria

---
Camp Photographs